Food
Studying eating habits can be an excellent starting place for discovering an ethnic or cultural group; Mennonites are no exception. As they have moved from place to place, Mennonites have developed many traditional foods. Since these traditions were greatly influenced by their contact with different peoples and the availability of different foods, Swiss and Russian Mennonite groups have distinct food traditions that reflect their migrations.
Importance of Food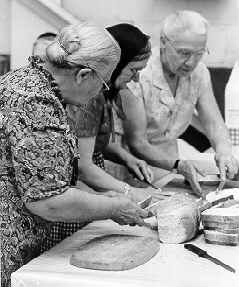 Mennonite Women Prepare Fresh Bread at the MCC Relief Auction in Saskatoon (1985): Mennonite Reporter photo
One thing is certain, however; eating has been a very important part of Mennonite culture. More than just the food, meals have been and continue to be important community events. They provide chances for people to interact, catch up on and discuss local events and news, celebrate and recognize important happenings, and simply enjoy great food.
The importance of food in ethnic Mennonite culture tends to be connected with its emphasis on community. Weddings, funerals, economic crises, and holidays all affect the larger community. Although especially true while Mennonites lived in mostly rural areas, somewhat isolated from their non-Mennonite counterparts, community remains an important part of this tradition for those in cities. Fellowship meals continue to be held at weddings, funerals, meetings, and other gatherings.
Popular Culinary Traditions
Many culinary favourites are seasonal traditions, with specific recipes prepared for Christmas, New Year's, and Easter.
Nonetheless, perhaps the most famous Mennonite culinary tradition is the potluck. Often held as congregational gatherings at church, each family brings enough food for their own family and more. Some people bring main course, others salads, drinks, vegetables, fruit, and desserts. There is a great assortment, and plenty to go around.
Sometimes recipes themselves reflect the importance of community. In the back of The Mennonite Treasury of Recipes, for example, there is a whole section of recipes for 100 people or more. The following recipe from The Best of Mennonite Fellowship Meals is for "Borscht," a type of soup commonly found in the Ukraine which was adopted by Russian Mennonites during their time there.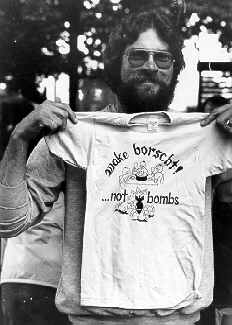 T-shirts Designed by Edith Krause Sold Well at MCC Relief Sale, BC (1983): Mennonite Reporter photo
Chicken Borscht (70-75 servings)
23 lbs. chicken
14 quarts water
12 tsp. salt
24 cups diced potatoes
24 cups diced carrots
7 medium onions, diced
7 cups cooked tomatoes
5 heads cabbage, shredded
12-15 peppercorns
3-4 bay leaves
12-15 whole allspice
chicken bouillon to taste
(Paul Isaak in Good, p.34)
Perhaps the most telling is the fact that literally hundreds of cookbooks with "Traditional Mennonite" recipes have been published. Since cooking has been an area dominated by women, old cookbooks can often give us a unique perspective into Mennonite culture.
New Traditions
The Mennonite church welcomes people of many cultures and backgrounds. As you will see in The Church Today, and The World Church, this increasing diversity has brought many changes. Rice, beans, and tortillas have joined shoofly pie, vereniki, and summer sausage as "Mennonite food."
The picture below was taken during a meal break at the World Conference in India (1997), where people had "Mennonite food" Indian-style!
Created 1998 by Derek Suderman