Music
Early Beginnings
In the early 1500s singing in the Catholic church was done only in Latin. As a result, most uneducated people did not sing, or even understand the meaning of song lyrics. During the Reformation, Luther and some other reformers introduced singing in the people's common language as a regular part of church services. This was helpful for teaching the (often illiterate) common people Bible stories, as well as how to interpret and understand them.
From very early on the Anabaptists used music to worship and attract new believers. Writing words which followed traditional and popular melodies was especially effective. In fact, some scholars believe that music was the single aspect of the movement which attracted the most people.
Music also provided comfort and courage during very difficult times. For example, many persecution stories in the Martyr's Mirror describe Anabaptists singing on the way to and even while being executed. As you can imagine, song lyrics from this time period reflect the struggle to be faithful in extremely difficult circumstances.
In fact, sometimes experiences of persecution inspired the creation of music! Anabaptist prisoners in Oberhaus Castle composed a collection of songs which were later smuggled out and formed the basis of the Ausbund.
Birth of a Tradition
Groups began to compile these songs into books or hymnals, some of which are still being used. For example, some conservative Mennonite groups still use the Ausbund, a Swiss Brethren hymnal first published in 1564! Many of these books had no musical notes, only words; the melodies were passed on from generation to generation by ear.
Although this religious music began as 1-part singing with no instruments, by the 1850s four-part singing became popular in various Mennonite groups in parts of Europe, and a little later in North America. This tradition was particularly strong in the Germanic languages, as this music tended to be based on "hymns."
Recent Developments
The influence of contemporary music and the transition to English have both had a great effect on music in Mennonite communities. As one might expect, the most drastic changes have happened in those groups that are more "open" to modern culture, and have adopted English most fully. In Canada, Mennonite groups have made a concerted effort (no pun intended) to maintain this music, and especially singing, tradition by establishing choirs and teaching music skills to their children. Many Mennonite private schools and Colleges maintain exceptional music programs, with very high enrollment (in some settings, as much as 90% of the student body participate).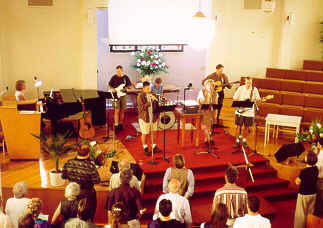 Worship Team from 1st Mennonite Church, Vancouver
The use of instruments has also changed in the Mennonite community. Originally frowned upon, instruments have gradually crept into use in varying degrees. Pianos and organs were first to be accepted, and are still the most widely used. Some congregations regularly use other instruments as well, such as guitar, horns, violin, and others. Some churches now have "worship groups" or "worship bands" that may include electric guitars and basses, as well as drums. As you can well imagine, there continues to be a broad spectrum of musical instruments and styles within Mennonite churches and communities in general.
Music has been an important part of the Anabaptist tradition from the beginning. The proper place of music, however, has been the source of continuing debate. The piano and organ, and more recently the guitar and drums, have prompted discussion about what is appropriate in and out of worship.
New Directions
As the Mennonite church has broadened to include people of different cultural backgrounds and nationalities, their rich musical heritages have also contributed greatly. One beautiful example is the International Songbook used at the Mennonite World Conference in Winnipeg, 1990. This book compiled religious songs sung in a dozen languages by Mennonites around the world, each with translations to at least 3 other languages.
Created 1998 by Derek Suderman