Quilts
Driving through Amish and Old Order Mennonite areas, one can often see signs advertising "Mennonite furniture" and "Mennonite Cooking." Perhaps even more common are those promoting "Mennonite Quilts for sale." Over the last half- century, quilts made in Amish and Mennonite communities have actually become quite famous. In 1971, for example, antique Amish quilts were put on display in a Museum in New York City, where they were viewed by thousands.
Early Quilting
Originally made for use as blankets or bedcovers, quilts have become increasingly popular and recognized as works of art. Made primarily by women, they generally fall into two broad categories. Embroidered quilts, such as the example above, are made by close needlework. Piece quilts are made up of pieces of cloth which are sewn or knotted together into patterns - some simple, some complex. Like food preparation and meals themselves, quilt-making has been a very social activity.
Quilt-making has been more widespread in North America than in Europe. As early settlers, Mennonites were forced to make most of what they needed; they lived mostly on farms or in small villages and needed to be self-sufficient. In the traditional family structure women were in charge of the household and responsible for clothing and household items. These factors combined to bring Mennonite women together to develop and master the craft of quilt-making.
Sewing Circles

"Fond memories take me back to my childhood when my mother and I would go to my grandmother's house for a quilting bee. We children played under the quilt and listened to the chatter of the quilters. The best part was tea time and Grandma's marvelous ginger cookies."

Pauline Morrison (Ontario) in Stolzfus, p. 293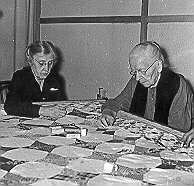 Quilters
Around the turn of the century, "Sewing Circles" began to emerge. In these "Circles" women (often through church connections) would get together on a regular basis in church basements or private homes. They would sew clothing and make quilts which would then be donated to needy people. Initially organized informally, "Sewing Circles" became increasingly popular after WWI when quilts and clothing were donated to local agencies, as well as shipped overseas by MCC and other agencies.
Quilting Today
As one might expect, changes in the lifestyles of Mennonites have had an effect on this tradition. As more people live in cities and family dynamics change, less opportunities are created for these kinds of regular gatherings. The quilting tradition remains strongest in Old Order Amish and conservative Mennonite communities, where rural lifestyles and traditional family structures remain the norm.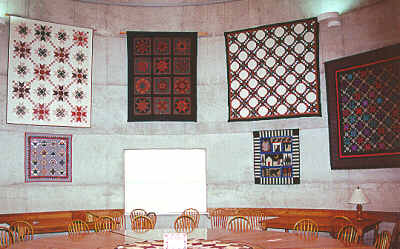 Marjorie Kaethler Quilt Exhibition at Rockway Mennonite Collegiate in Kitchener, Ontario
Nonetheless, quilt-making remains popular, and has enjoyed some renewed interest. Quilts continue to be one of the most popular items at Relief Sales held across Canada to raise money for the mission and development efforts of MCC. The skill and time involved as well as the beauty of the end product are widely recognized, with quilts fetching anywhere from 200 to several thousand dollars at auction.
Click on a quilt to see a closeup. For more examples of quilts, visit the MCC Relief sale site on the "Related Sites" page.
Created 1998 by Derek Suderman