Culture
As with many other groups, it is difficult to define who Mennonites are. From the very beginning, one of the major emphases of the Mennonite church has been that joining the church is a voluntary decision. Today, however, one can go to an area with a Mennonite population and see signs advertising "Mennonite baking," "Mennonite furniture," "Mennonite quilts," and even "Mennonite maple syrup!" To my knowledge, no syrup or baked goods have ever been baptized into a Mennonite church - they have never decided that "this is the church for them." In such cases the word "Mennonite" does not refer to a religious group, but rather to people of a certain ethnic and/or cultural background.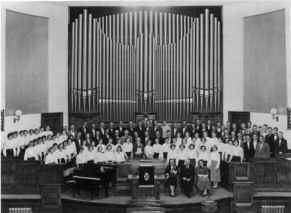 Coaldale Mennonite Choir and Orchestra, 1956
The topics in this section will introduce several traditional aspects of life which continue to have importance for people of Mennonite ethnic heritage. As a result, this section concentrates on Mennonites of European background. These traditions do not limit who is part of or can join a Mennonite church, nor do they reflect the growing diversity within it.
Marwa Kisare of Tanzania made this point very well when speaking about Mennonite missionaries arriving in his country:
It was only because of Jesus' blood that Elam Stauffer and I were able to recognize each other. Without that sacrifice he was nothing to me. If he was just an ethnic Mennonite holding to the ways of his Mennonite ancestors, holding to his Swiss-German heritage, then he was no different from what I was when I held to the ways of Kisare's village. My ethnic heritage was as rich and meaningful as his.

An ethnic heritage may be a blessing to us. But there is no salvation there, no new village, no church. Ethnicity alone leaves us separated from God and each other. It is only through Jesus' sacrifice that we can become sons of God and can live with his blessing. It is only through Jesus' sacrifice that we can call each other brother. (Z. Marwa Kisare (Tanzania: 1984) in Haas, 44)

Witmer Family Reunion: June 23, 1915
Make sure to visit The Church Today and The World Church to discover the rich cultures and traditions which thrive in both the national and international church.
Created 1998 by Derek Suderman