The World Church
The 20th century has been an exciting period of unprecedented change in the global Mennonite church. Before this century, most growth in the Mennonite church had been the result of having children. Over the last 100 years, however, the "Anabaptist Vision" has attracted people of many cultures and backgrounds.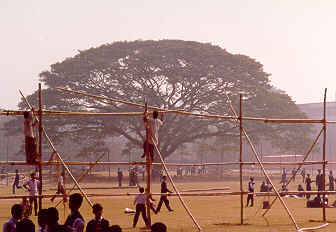 Preparing for the Mennonite World Conference in Calcutta, India (1997)
In part through mission efforts at home and abroad, there has been a tremendous growth of the number of Mennonites from non- European backgrounds. As a matter of fact, there are now more Mennonites in the South (Africa, South America, Asia), than in the North (Europe, North America)!

"Lord, give bread to those who hunger, and hunger for justice to those who have bread."
Latin American prayer
These churches have injected new life, excitement, and commitment into the Mennonite world church. They bring unique perspectives, expectations, and assumptions to the Mennonite church from very diverse situations. Their enthusiasm and commitment constantly challenge us to be faithful in our own context here in Canada.
Created 1998 by Derek Suderman