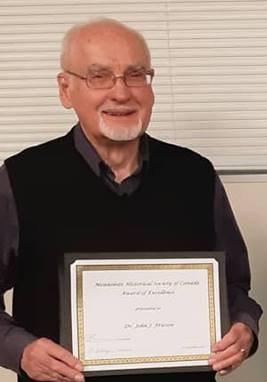 The Mennonite Historical Society of Canada
is pleased to present its November 2018 Award of Excellence to:
John J. Friesen
Dated this 15th day of November 2018
Winnipeg, Manitoba



John Friesen served as Mennonite history professor from 1970 to 2000 at Canadian Mennonite Bible College (CMBC), and Canadian Mennonite University from 2000 to 2010, the last five years part time. Born to a farm family near Rosenfeld, Manitoba, just north of Altona, he attended Mennonite Collegiate Institute and was baptized in the Rosenfeld Bergthaler Mennonite Church. In 1962 John graduated from CMBC, and then also from Bethel College in Kansas in 1963. After marrying Dorothy Peters of Gretna in 1963, the young couple attended the Altona Mennonite Church, in the town where John sold advertising for the Canadian Mennonite magazine, edited by Frank H. Epp. In 1964 John and Dorothy moved to Elkhart, Indiana where John attended Mennonite Biblical Seminary; after graduation in 1967 they relocated to Chicago where John worked on his PhD on historical theology at Northwestern University.
Throughout his career John has contributed in substantial ways to Mennonite historiography. In 1980, 1984 and 1992 he led tours to historical sites in the Netherlands, Poland, Russia, Ukraine and Kazakhstan. John also served as Canadian coordinator and editor for Volume V of the Mennonite Encyclopaedia published in 1985. For many years during these decades John served a leading role on the Mennonite Heritage Village board in Steinbach, Manitoba, in particular in designing and writing the script for the museum's Main Gallery. He was also the founding chair of CMBC Publications, and served as editor-in-chief of the press from 1972-75. In addition John gave leadership to archives, serving as founding chair of the CMBC History-Archives committee and on the building committee of the Mennonite Heritage Centre. For many years John also served as Vice President on the executive of Mennonite Historical Society of Canada, during these years the MIC series took off and was completed in 1996. In 2004 John was appointed to the D.F. Plett Historical Society where he has served as VP ever since and as co-editor of Preservings from 2004-2015. Between 2000 and 2014, Friesen taught a number of theology and history courses designed for Hutterite students and leaders from across southern Manitoba, South Dakota, and Minnesota. At an event John noted that "In a society that relegates faith into ever-smaller areas of private life, you're committed to having faith permeate and shape all areas of your life."
John also authored and edited a number of historical works. His most noted monograph, Building Communities: The Changing Face of Manitoba Mennonites was published in 2007, and recognized by James Urry as "a valuable synthesis of existing information presented in a scholarly framework" in which the author "carefully differentiates and describes the large variety of Mennonite…conferences formed through [a] complex pattern of immigration, schism, and consolidation….." Earlier, John also translated and edited Peter Riedemann's Hutterite Confessions in 1999, edited Mennonites in Russia: Essays in Honour of Gerhard Lohrenz in 1989 and authored the 1985 booklet, Mennonites through the Centuries: from the Netherlands to Canada.
John is currently retired; he and Dorothy are long time members of Fort Garry Mennonite, parents to three children, and grandparents to five grandchildren. John is known by all as an insightful, thoughtful, widely-read, good natured and generous colleague. He has brought life to Mennonite history, interpreted the Manitoba Mennonite story, extended his research into a variety of directions. We as a Society are pleased to honour John with the 2018 MHSC Award of Excellence.
Books
Editor, Mennonites in Russia, Essays in Honour of Gerhard Lohrenz. Winnipeg: CMBC Publications,1989.
Translator, editor, Peter Riedemann's Hutterite Confession of Faith. Waterloo and Scottdale, Herald Press, 1999.
Building Communities, The Changing Face of Manitoba Mennonites, Winnipeg: Manitoba Mennonite Historical Society, 2007.
Selected Articles
"Mennonites in Poland: An Expanded Historical View." Journal of Mennonite Studies 4 (1986): 94-108;
"The Relationship of Prussian Mennonites and German Nationalism" in Harry Loewen, ed. Mennonite Images, 1980, 61-7;
"Education" in Walter Klaassen, editor, Anabaptism Revisited: essays on Anabaptist/Mennonite Studies in Honor of C. J. Dyck, 1992.
"Mennonites in Poland: Heretics or Orthodox?" Preservings, No. 33, 2013, 16-21.