War and the Conscientious Objector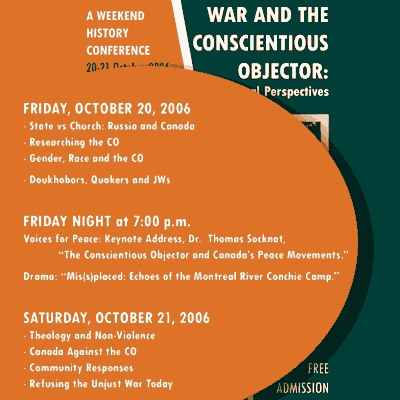 Click on image for downloadalbe pdf of the program
Papers of this conference were published in the 2007 issue of the Journal of Mennonite Studies. For further information purchasing the volume, contact the editor, Royden Loewen, at the University of Winnipeg.
On October 20 and 21, 2006, a history conference highlighted the experience of Canadian conscientious objectors in the Second World War. During this time about 60% of Mennonite men who were called to military service agreed with their church and refused to participate in active military service and opted rather for the alternative service program as negotiated by the Mennonite leaders with the Canadian Federal Government. This story, while reflecting Mennonite church teachings, has not been fully told. Many people know nothing or very little about the story, experience, and significance of the conscientious objectors, even in the Mennonite community. In fact it seems counter-cultural to talk about peace and alternatives to war in a time when media celebrates participation in the war and calls on us to remember and honor members in the armed forces and their actions.
This conference took a critical look at the experience of the Canadian conscientious objector in the Second World War, but also included speakers who have carried on that value and stance in recent times. The Conference invited speakers from BC to Quebec, from various Mennonite denominations as well as from the United Church, Jehovah's Witness, Quaker and Brethren in Christ denominations. In addition experts on pacifism in Canada, as well as university students, and actual COs spoke.
The Chair of Mennonite Studies hosted the lectures at the University of Winnipeg's Eckardt Gramatte Hall.
---

Last updated 05-Mar-2008