Singing Our Journey: Sängerfest 2023
Centenary of the Russländer Immigration to Canada in the 1920s
A traditional Mennonite songfest, featuring choirs and soloists presenting songs from the church choir repertoire throughout the past 100 years.
Centennial Concert Hall, Winnipeg – Saturday, July 15, 2023, 7 pm
Tickets are complimentary but must be selected in advance. Tickets will be available on June 6 at 10:00 am CDT from the Centennial Concert Hall box office.
In the 1920s a large group of Mennonites, commonly referred to as Russländer Mennonites, came to Canada. The Bolshevik Revolution (1917) followed by the Russian Civil War forever changed the lives of all people living in Ukraine. It also meant that the Mennonite way of life as it had been known for over a hundred years faced total annihilation. During the 1920s 21,000 left Ukraine and immigrated to Canada; over 6,000 of them settled in Manitoba.
2023 marks the centenary of the beginning of this migration. The Mennonite Historical Society of Canada has organized centenary celebrations across the country throughout the month of July, linked through the Memories of Migration: Russlaender 100 commemorative train tour.
The idea of a train tour gave incentive and inspiration to commemorative activities which will be held in centres across Canada where the Russländer Mennonites settled. As the train tour moves across the country there will be celebrations and commemorations at every stop. It will begin where they landed, in Quebec City and Montreal, go on to Kitchener-Waterloo, and then westward to Winnipeg, Rosthern, Didsbury and Abbotsford.
There will be special events at each stop. One of the special events in Manitoba will be Singing Our Journey: Sängerfest 2023.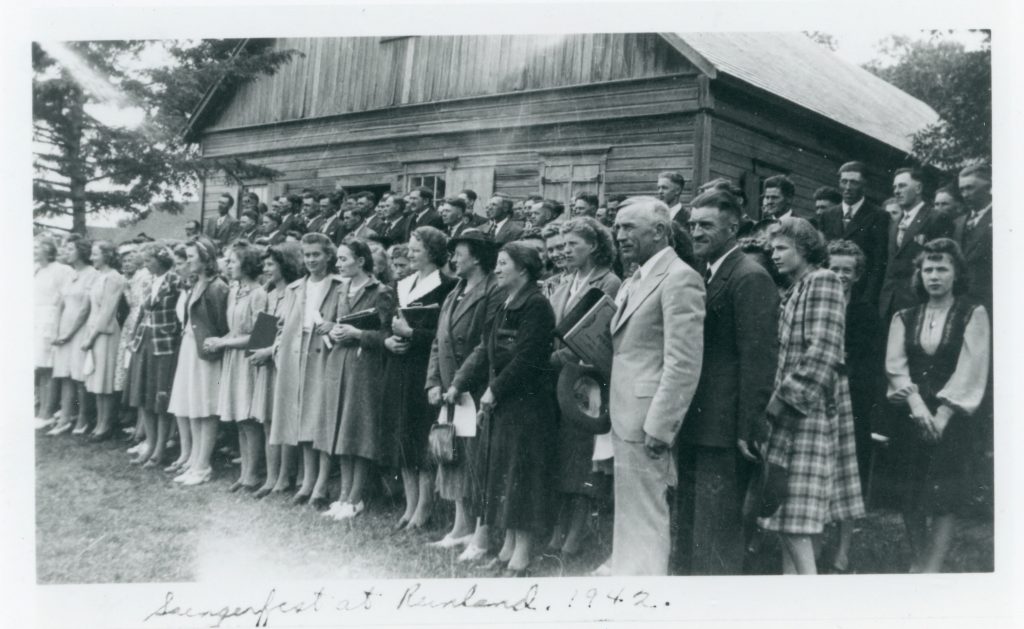 The Sängerfest program will feature a Treble Choir (Millie Hildebrand, conductor), a Youth Choir (Kristel Peters and Vic Pankratz, conductors), and an Adult Choir (Henry Engbrecht, conductor). The finale, "Countless Gifts," a new arrangement of "Now Thank We All our God" by Manitoba-born composer Leonard Enns, will include all three choirs, guest soloists and congregation. Guest soloists will include Andrea Lett, soprano; Phillip Ens, bass; and Victor Engbrecht, baritone. The master of ceremonies will be Eric Friesen, long-time CBC radio host, commentator and broadcaster. Pianists will be Loren Hiebert, Laura Loewen and Maddy Hildebrand. The choirs will sing individually and combined.